FIELD BOOK of the SKIES By WILLIAM T. OLCOTT
Revised and edited by R. NEWTON and MARGARET MAYALL
Another classic work of early to mid-20th Century astronomy for amateur astronomers.
"A clear and concise presentation of the main facts of modern astronomy, a brief story of the mythology of the constellations, and a practical field book for the observer of the stars, whether with naked eye, field glasses, or telescope." – as cited on the books cover.
"Since its first appearance in 1929, the Field book of the Skies by the late William T. Olcott has been a standard work of its kind. As an introduction to astronomy for the beginner and amateur, and as a reference work for the professional, it has no peer. There have, however, been numerous changes and discoveries in the field since the last revision in 1936. The new edition is the work of R. Newton and Margaret Mayan, old friends of Mr. Olcott's and noted astronomers in their own right. The present edition is a complete revision. The text has been simplified and brought up to date, and all the charts and drawings have been corrected to conform with the latest information available. The entire book has been re-set and the new format should prove much more convenient and easy to use."
This is another excellent publication of  the past, when the skies around us were darker and this edition predates the space age. Great and interesting reading even today!
This edition has a wonderful bright colorful paper cover with virtually no fading. Very hard to get in this condition after 60 plus years! The author, William T. Olcott is the founder of the AAVAO adding to the admiration of this book. (See photo below.)
Author
William T. Olcott
 
Preface  VII
Why Study Astronomy?   3
Fundamentals   8
How Do We Know?  24
How To Use This Book    41
The Constellations    53
The Constellations of Spring
Map of the Heavens at 9P.M., April 1st   56
Ursa Major    58
Ursa Minor    67
Gemini    72
Auriga    79
Cancer    86
Hydra    93
Leo    96
Coma Berenices    102
Canes Venatici    108
Canis Minor    112
Corvus    116
Crater    120
The Constellations of  Summer124
Map of the Heavens at 9P.M., July 1st    126
Content
Lyra   132
Cygnus    38
Aquila    144
Delphinus and Sagitta    150
Sagittarius    156
Ophiuchus and Serpens    162
Scorpius    168
Libra    174
Corona Borealis    178
Hercules    184
Bootes    190
Virgo    198
The Constellation of Autumn
Map of the Heaven at 9 P.M October 1st    204
Cassiopeia     206
Cepheus    212
Pegasus and Equuleus    218
Andromeda    224
Triangulum    230
Perseus    231
Pisces    237
Piscis Austrinus    242
Aquarius    243
Capricornus    248
Aries    254
Cetus    259
The Constellation of Winter
Map of the Heaven at 9 P.M., January 1st    264
Taurus    266
Orion    276
Lepus    283
Canis Major    286
Monoceros    294
Eridanus    298
The Solar System
The Sun    305
The Moon    310
Lunar Occultation    314
The Planets    335
Mercury    336
Venus    339
Mars    341
The Asteroids ( or minor planets )    346
Jupiter    349
Saturn    354
Uranus    375
Neptune    359
Pluto       361
Comets    367
Meteors    372
Eclipses    379
The Milky Way                  384
The Small Telescope        388
Historical Events              401
The Names of the Star and Their   Meanings   418   
Appendices                         437
Index                                    471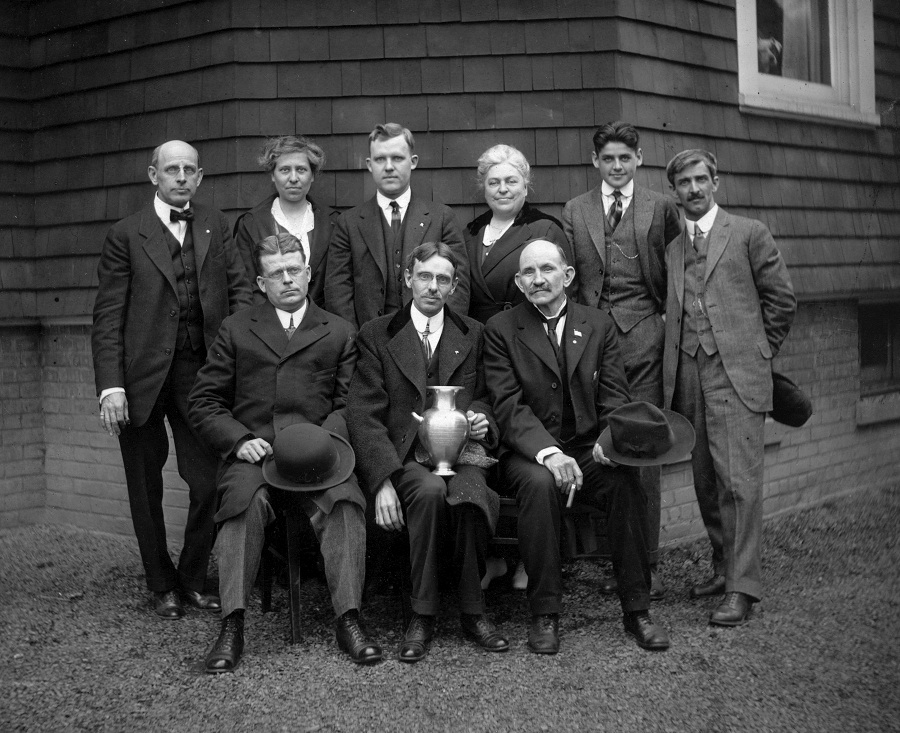 William T. Olcott (seated center) founder of AAVSO (American Association of Variable Star Observers